From high energy to calm vibes — we've officially journeyed through Leo season and have begun to settle into Beyoncé Season — I mean, Virgo Szn 😂. The season shift reminds us to focus on our physical wellbeing, get grounded and to practice (and/or lean deeper into) the art of planning, organizing and clearing up residual mental and physical clutter.
Virgo Szn says "it's time to fine tune things and tap in so that we can journey with even more clarity, reach a new level of self awareness and lean deeper into/master our talents and gifts".
Virgo energy is all about reflection, reassessment and analyzing. This energy invites us to pay more attention to where, who and what we give our energy to and what energy we are receiving.
Is this in alignment with me? Now? And for this next phase of my life? Will sharing energy with this thing, situation, opportunity or person distract me from my overall goals? Will it take me out of alignment? Does it even make sense for me? Does this support my overall wellbeing — mentally, physically, emotionally and spiritually? These are all questions, that the energy of Virgo Szn asks us to reflect on.
The word here feels like discernment. Taking time out to assess where we are intentionally placing our time, energy and attention.
And well — in true Virgo fashion, the things that don't logically make sense need to be removed in order to keep us journeying on the path necessary for our growth and ascension.
On the flip side, we want to make sure that we aren't leaning solely on our logics and/or desire to reach our goals. Virgo season challenges us in that way, ya know? It reminds us to give ourselves room to be more. To open our hearts more. To accept where we are in our journeys as good enough, even if we aren't exactly where we thought we should, could or would be.
Virgo season challenges us to remember that we're human, so we don't need to put so much pressure on ourselves or our loved ones. Sometimes a harsh but much needed reminder to get out of our heads, drop back into our bodies and appreciate the journey as opposed to worrying about the destination.
Affirmations To Journey With This Virgo Szn
I am deeply rooted in the blessings provided to me by Mother Earth.
I honor my desire and need to be a student. I allow myself to learn all that is necessary for my growth in order to master and lean deeper into my talents, dreams, gifts and goals.
I honor what is in alignment with my highest good and release what is not.
If need be, I create the opportunities needed to support my soul path.
My practicality is a gift that not only helps me but serves the greater good of my community.
I honor my intuition and logical mind as I use these inner tools to discern what is divinely for me and what is not.
Work is necessary, yes. But so is rest. I release the desire to work until I am depleted. I honor the need to rest as a form of productivity.
I am perfect just as I am in this moment.
Crystals For Virgo Szn 💎
Lepidolite
As analytical and hard working as Virgo's are — it can be quite easy to get wrapped up in the "all work, no play" mentality. As we lean deeper into taking care of our wellbeing, Lepidolite reminds us that it's okay to relax and take some time off to replenish our energy. It helps to soothe anxiety and brings our energetic bodies into a state of equilibrium and harmony.
You can find it in the DE LA JIPI Shop here
Moss Agate
Embodying the energy of calmness and mindfulness, Moss Agate is a balancing crystal perfect for Virgo season. A crystal of the heart chakra, Moss Agate keeps us connected to the Divine Feminine, Mother Earth. It also invites us to trust in our selves a bit more and keeps us free from burnout and the dangers overworking and the need for perfectionism.
Peridot
Another crystal of the heart chakra, Peridot helps to remove the ever so Virgo desire to embrace perfectionism. It helps us release feelings of not being good enough and all other self detrimental thoughts and feelings. It transmutes this energy, calling in clarity, growth and openness. It also helps attract good fortune, abundance, and prosperity, as well as being a protective crystal for the aura.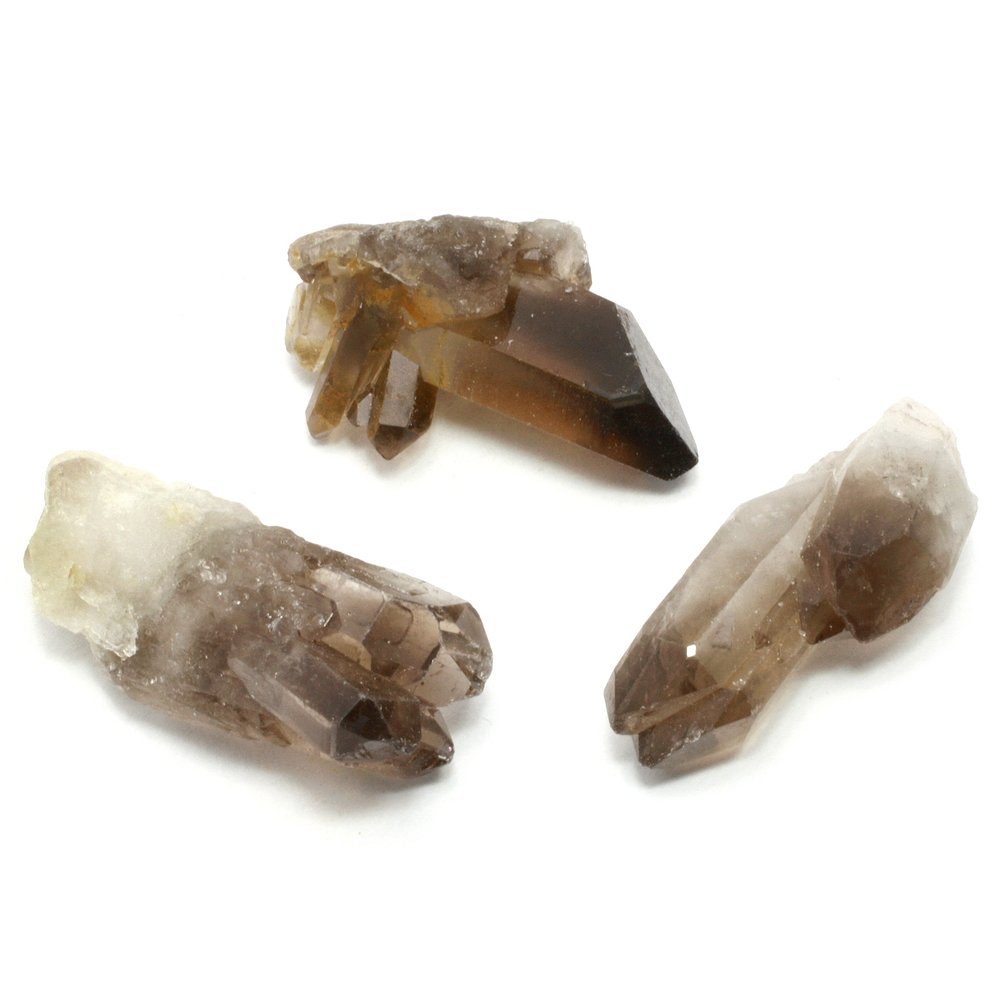 Smoky Quartz
Who would of thought a Virgo needed more grounding?!?! Well, the truth is sometimes Virgos get too locked in the idea and desire to analyze, control and perfect things. Smoky quartz helps Virgos (and all of us affected by this energy) drop back into our bodies and out of our heads. Smoky quartz helps remove negative energy, clear self-criticism and gives us the confidence to move forward with achieving goals.
Kyanite
A crystal that balances yin yang energy, Kyanite is a throat chakra crystal that helps us communicate with clarity, ease and efficiency. Bringing harmony to all chakra centers, it helps clear mental clutter, assists us with logical problem solving, shields us from negativity and brings harmony to chaotic situations. Kyanite has the power to unlock the subconscious mind, bringing forth painful memories from the past which need healing. It helps us to release the things that do not serve us any longer.
For healing crystal jewelry featuring Kyanite and other crystals, click here.
𝚂𝚠𝚎𝚎𝚝 𝚁𝚎𝚖𝚒𝚗𝚍𝚎𝚛 ☼ 𝚈𝚘𝚞 𝚊𝚛𝚎 𝚎𝚗𝚘𝚞𝚐𝚑, 𝚓𝚞𝚜𝚝 𝚊𝚜 𝚢𝚘𝚞 𝚊𝚛𝚎.